THE ROOMS
To make sure that you really feel comfortable, the rooms are cosy and all include:
- a balcony
- a TV
- completely toxic-free furniture and equipment
- anti-stress duvets
- spacious rooms
The breakfast is:
natural and healthy with home-baked cakes, fresh eggs from our house-chicken, freshly juices, home-baked baps, curd, yoghurt, müsli and home-made jam.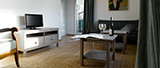 GREEN ROOM
Various green shades determien the atmosphere. It is our biggest room and could be described as a suite.